Personal Reflection:
The realization I have come to through this unit was that one of America's biggest problems with food is our assumptions about what is included in a "healthy" diet. We eat food with a focus on meat and only eat vegetables as a side dish. We have normalized a huge intake of fat and sugar to the point where most people would fall under science's definition of obesity, but consider themselves a healthy weight. It is an ironic problem, because some of today's most deadly health problems are caused by an excess of essential components in our diet.
Another part of the unit that fascinated me was the strange practices of the major food companies. It is a scary thought to realize that every item on the shelf can be traced back to a few names, it is also hard to imagine how much of our food can be traced back to corn. This seems to me like one of our biggest problems. The scientists who engineer our corn are very nearsighted, they worry about making a profitable crop, but not necessarily what to do should something happen to kill off the corn.
Sauerbraten Meatballs (James' Great-Grandmother's Recipe)(Also Henry's new adopted Great-Grandmother's Recipe):
1 ½ ground chuck (I use 1 lb. gr. turkey and ½ lb. gr. beef)
Mix with onion, 1 egg, s & p
¼ c. bread crumbs - ⅓ c. milk
Make small patties, about 3" across and thicker than a hamburger.
Brown well in little oil.
Remove patties - In same pan make sauce-
⅓ c. Vinegar - 1 ½ cups water - few bay leaves 10 or more whole cloves - about 10 gingersnaps ½ tsp. salt. 1 or 2 bouillon cubes - simmer about 1 hr. or bake 350º
(A note to my dad on the other side of the card)
I use the turkey meat because of no fat. By browning the meat well, you get a richer sauce. The gingersnaps (yes, cookies) thicken the gravy. You will learn by experience the taste. You may want more spices, or more vinegar etc. The sauce will taste sour but when it is put over the meat, the meat will absorb the vinegar and it will no longer be to sour.
The last batch I made was the best ever with the turkey meat.

Analysis:
Non-Processed
½ lb. gr. beef
1 lb. gr. turkey
⅓ c. milk
¼ c. bread crumbs
1 ½ cups water
⅓ c. Vinegar
½ tsp. salt
1 egg
10 bay leaf cloves
We put a lot of these ingredients under non-processed because of the time period that it came from. James' Great Grandmother grew up with this recipe during the Great Depression making it hard for her to get any processed version of the ingredients listed above. The Gingersnaps were definitely processed. But most things would have been easily accessible back then. Today, most, if not all of the ingredients are mass produced and altered to the point where they bear little resemblance to the original product. With the exception of James' eggs because they are produced in his backyard.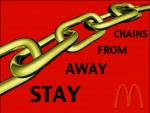 This food rule comes down mostly to common sense. It is something my family has done since I was five years old, for a variety of reasons. Mainly, chain restaurants have all of their meals produced off site and shipped over long distances in frozen packages.