Characters
Eduardo - Farmer, Husband to Eva.
Carmen - Daughter of Eva and Eduardo.
Martin Baines - Drug dealer.
Eva - Wife of Eduardo.
Federal agent - Has a way with words
Ben Walsh - Reporter in U.S.
ACT 1 SCENE 1
EVA
(Three men come near the house, two with guns and one with a suit)
(Wife is outside watering plants)
Oh, these Dahlias are beautiful this time of year. When spring showers bring may flowers. Hopefully that will happen with the crop this year. Hopefully... It just wouldn't grow last year.
(Sigh)
Whats- Whats that over there? I never saw that car before. They're getting out. Why are they getting out? They have no business here. Or with us, for that matter. Oh no, they have guns!
(Eva goes inside to the screen door)
Who are those men out there?
(Looking outside)
The ones outside! With the guns. One guy has a suit. Yes… The other two- don't you see? The other two have dress shirts. No, they're, they're, just looking around at our field. I don't know why. Maybe the cro- No, but there mad at something. Will you let me finish a sentence? I said maybe the crop. Why are they mad? See you don't listen to me I told you. Look Ed, they're picking up the soil. I'm not sure. No he's on the phone screaming about something in Espanola. I can't make it out. Probably the field. They're coming toward the house
(Motioning to Ed)
Go see what they want, before they destroy our property. Please, honey. Do it for me. Be careful. No, no, don't take the gun; we don't want them to know we have one. Wait let me go lock Carmen's door.
(Locked the door)
(Walking to the front of the room)
All right, come on Ed make them go away, use that silver tongue of yours. Talk them away. That's it. You're doing a good job. Oh, no… They just flashed their guns. No, don't bring them inside, what are you doing?!
(Sigh)
(Ed walks in with the traffickers)
(Waiting for Ed to come, whispering to him)
Why did you let them inside? Huh? I know but you could at least... never mind. So, what did you find out? You're not sure what they want? All right, let's see. Don't make them mad. They might kill us.
(Talking to the traffickers)
So, uhhh.
(Clears throat)
Good afternoon. Can I get you guys anything to drink? Want some lemonade, or... cold tea? Oh, I know! How about some Orange juice?
(Walking to the kitchen)
No? Not thirsty right now?
(Walking back)
Okay, then. So, uhh, what brings you gentlemen here? I would be better if I sat down? Okay, sure. Fine, what's this about?
(Pause)
(Looks to Ed shocked)
You want, what? Or else? ...No, no, no ,no. You don't understand. We already planted our seeds. You're too late. What's your name? Mr. Diaz. Huh? You people come into my house wanting our property... and labor? For nothing? You're out of your damn minds! Who do you think we are? Morons? There isn't any way you're getting our land! No way. No, you're so lucky I don't reach for your throat now... Don't call me a bitch! I'll rip your head off.
(Whispering to Ed)
Tell them no, make them go away. Before I hurt them. Come on, you know this is ridiculous? Right?
(Talking to traffickers sternly)
Can we talk for a second? ...Alone?
(Ed and Eva go off to the side)
Ed, listen, we can't do this. No, it's too late in the season anyway to do this. We will get the money another way; we will get the money another way.
(Rubbing the tears from her face)
Their criminals! Crooks! Thieves! Cowards! Don't patronize me! They are going to make us do all the work so- and what if the drug police come, huh? What the hell do we do then? No please don't do this, what about- Yes, what about Carmen.
(Hand motion)
I know she needs the money but its drug money! We can't raise her in this mess, we just can't. She has a good life ahead of her in spite of her illness.
(Rubbing her face)
No, Ed she's only seven she can't handle this kind of thing. You should have never let them in. All right I'm sorry but we can't do this. There are other ways. There are! I know it. I just can't think of them yet but they'll find us. They'll find us... Just, just tell them we'll think about it okay? Tell them 3 days. That should be enough time to get a plan going. We'll think of something. No, not tomorrow. Okay fine... Promise me.
(Carmen some how unlocked her door comes up to Eva)
(Talking to Carmen, kneeling)
Wait. No, no honey go back to sleep. Don't worry about them honey you need your rest. Okay? Don't ask questions honey. Just go back to sleep. Okay? Okay.
(Carmen goes back to her room)
(Staring down the traffickers, talking to them)
If you ever touch her... I'll kill you myself.
(She walks to Carmen's room)
(The men walk out the house)
Act 1 Scene 2
EDUARDO
(Slowly paced)
(Out in the field planting more seeds)
Great, just goddamn great. One more thing this year and I'll… My head will burst! First the bad harvest. Those tomatoes just went bad for some reason- I used the best fertilizer. The best seeds. And fresh water from the stream. I, I did everything right, I don't know went wrong. What happened? They were fine until... Until august when I started using the pesticide. How stupid could I have been? I should have known. Goddammit. Then Carmen… Going for a routine check up and then bam. She's horribly sick and we didn't even know it. Or at least I didn't. I thought it was just the flu-I mean she had a fever and threw up. A cough. Those are classic flu symptoms. Right? I guess not... So, we went to the doctors and come to find out its kidney disease. What the hell kind of sickness is that for a 7 year old child? Fist off, how does it even happen that young? I mean that's something older people get. Like me. Why not me? Why her? Why her this young? It should have been me! I'm the old person in the house. Why not? Why the hell not? Plus, the damn treatment for her is too much. I can't… I can't afford it. Two days a week at Hospital Regional. The only reason I can get her some treatment is because of the hospital and whatever insurance she has. I don't even know what she has. They can only do it for so long, soon they'll need money. I barley have enough money to feed us. Not with the crop last year. Now there's a way to help her but it's with Criminals! Damn it! I can't do a deal with criminals. They came into my home threatening my family. Then Eva went berserk... If I don't do this deal and they come by again. That will be the end of them. No, more problems. But if I get over powered. They'll kill me or… At the very least they'll kill Carmen or Eva. Or even worse take them! I can't live without them… No, no, no, they are not going to die or be taken advantage of, Ill make sure of it. I can't think about the what ifs... Next time they come I won't be alone though. I guarantee it. I'll-
(Pause)
Ill some how get the police to know about this
But how?
(Pause)
There has to be some police in Iquitos. I'll tell them what happened and next time they come they'll be here and imprison them-
(Sigh)
Yeah
(Nods head)
(Shakes head)
No. No, I'll make the deal. She needs the money. For that um. Um. What's it called? ...Dialysis. Yeah that's it. I can get her that and some new clothes. It'll make her happy... I'll make her happy. These seeds better grow more than just plants. They better grow hope because... This is the only thing we have left.
Act 1 Scene 3
CARMEN
(Sitting on her bed)
I'm so confused. What's is going on around here? ...I'm sooo scared. I showed him everything that was wrong with me. And mommy told him everything thing else I missed. I think it started a week or two ago. When I threw up... I can't remember... But the doctor told me bad news.
(Crying)
It made me really sad. And- and papa was crying about it, because he didn't. He didn't have enough money yet to get me better.
(Stops crying)
I hope I do get better. I donn wanna be sick forever. I have to go to this place, two times a week. And they take out bad stuff in my blood, I forget what the machine is called but
I dunno how but it makes me better. I'll get better. I know it. I can't stand Mommy and Daddy sad like that it hurts my heart. But then yesterday. I heard noises in the living room. So I came out of my room to see what it was. And there were three men on the couch. And Papa. And Mommy. Were whispering, about something. I donn know. I couldn't hear them too good. But, It seemed bad. Then they all noticed me and made me go back to bed. It wasn't fair; I wanted to know what was happening. I deserved to. I mean I was awake and plus, I don't want to be in bed all day, It hurts after a while... I wanna go out into the fields and play, like daddy and me used to do. We would play hide and seek from dawn till sunset. But no.... My ankles are all puffy and I can't walk too good. I almost fell when I tried to get up. So, the doctor said to get rest and come every Tuesday and Saturday. I gotta sleep he said. That's fine I guess, I'm always tired anyway.
(Goes back to sleep)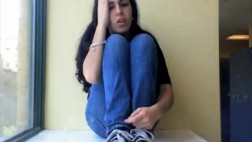 Act 1 Scene 4
DRUG DEALER
(Ring, Ring)
Yo man wassup? It's me Martin. What? Yeah you know me. Remember the thing on Wednesday and I told you about the thing? Yeah you got me. Nah, I got the stuff. Mhm. You come and get it. Yeah ill be there. Go to the spot we went to before. Nah, don't you remember? The one right behind Publix. You know. To the right of Acme, behind Publix. Nah. Yeah that one. Nah don't worry about the policia. So what if they are around the corner, dey stupid man. Nah, nah it'll be cool. I know man and plus this stuff is extra strong. When did I start doing this? Recently man. Ever since I got out of small time stuff. Goin with the big guys. What? Nah, I don't do no robberies any more. That's some old small stuff. Think bigger. I know people way down south. Yeah, so, where'd you here that. Around? Oh, okay.
(Waiting for the guy to come)
(Walking up to the guy)
Yo, man how you doin? Yeah, boss man is getting a new setup in Peru. Yeah but this stuff is extra strong once you take it, woooo you're off. Yeah, yeah. Nah don't worry they're going off somewhere else. What the sirens getting louder? Oh shit. Book it. RUNNN!
(Trying to run away)
Hide it man hide it! Did you set me up?! Did you set me up?! I knew it man. I knew it...
Act 1 Scene 5
FBI AGENT
(In an interrogation room with the drug dealer that was in the previous monologue)
(FBI agent walks in slams a folder on the table and sits leaning back)
(Felon is standing)
Sit down
(Pause)
Do you know why your here? Uhh Martin Baines. What? You don't know? You didn't do anything? Ha-ha, Alright. So the 6 kilos of cocaine, in your vehicle. You know the car that you own... 88' olds mobile... license plate number B36 MLK, isn't yours? You know the Cocaine in the glove compartment. You do know its illegal right? I mean I hope ya do. Uhuh right... Oh I see some planted it there right? You want me to believe your story right? Not going to happen. Lets look at your record down here in scorching Miami shall we?
(Reaches for a folder and opens it, crosses his leg)
Lets see. Grand theft auto in 06, on NW 45th lane. A break in, in 07. Same street. And now this, 6 kilos of cocaine... Behind Publix. Not even a block away. Now tell me, see, I don't understand how you could go from grand theft auto to 6 kilos of cocaine? Oh, you were set up, I see... Okay, listen. Cut the crap
(Unfolds his leg, sits up straight)
We are not interested in you. We are interested in your new boss, Jorge Diaz. He's known for forcing people into his business. We know about his operations in Peru, and your relation with him. He is setting up a new workshop for making Cocaine from plants grown there. He is also needed for questioning here for the cynical murders and beatings of his wife and three young kids. Madison at age 4... Franklin at age 3... Stephanie at age 7... And, Esmeralda, his wife at 28... Nearly beaten to death. Still in the hospital... You never heard of him before? Why did he kill his family? Because they threatened to go to the FBI. The only difference between you and them is you are already in custody. You won't get hurt. You're still not talking? All right, when you have a revelation about if you want to talk or not knock on the window and maybe, just maybe I'll talk to you. If other people die because of you, lets just say you're getting more than 10 years in prison, with accessory to murder
(Gets up)
(Starts walking away)
What's that? Oh, it is yours? Well, didn't you say it wasn't? You do know him? I'm terrible confused. Inform me! Now! On everything. Names. Numbers. Even what they eat for breakfast. I want know every damn little detail that you know about them. Or else you're going to get a minimum of 10 years in prison. And believe me when I say minimum.
Act 1 Scene 6
Reporter
Good evening, I'm Ben Walsh.
Justice is in the air tonight, here in downtown Miami.
FBI agents report that they have Jorge Diaz in custody today.
He was responsible for three cold-blooded murders of his children and the vicious beating of his wife just two weeks ago.
The lead the FBI agents got a tip from an informant, which proved to be the only thing standing in their way. A drug dealer in the area, Martin Baines, was arrested today on drug charges, which proved to be the missing link to solve the case. He told the FBI where Jorge was located, hiding out in the Peruvian city Iquitos. Jorge was extradited today on 3 accounts of first-degree murder and an attempted murder charge. Officials escorted him off the plane in chains and handcuffs earlier this evening and will charge him later this week.
Miami news Mbz
Back to you, Bob.
(Pushes on his in-ear head phone)
What's that?
Yes, the wife is still in serious condition but doctors say she is going to be all right.
Thank you, Bob.
Catch you later.
Act 1 Scene 7
CARMEN
(Overlapping a little with the monologue above)
Mommy, Mommy! Guess what mommy! Remember when Daddy went into town? Well he got a newspaper and I started to read it and I saw that Jorge Diaz got arrested! What do you mean what does it mean? It means that those mean people won't ever come again. Well the other day I woke up and heard you yelling. And you said Mr. Diaz and some other stuff. But that's him mommy. Look!
(Shows her the paper)
See, isn't that him? I knew it was him! Now we are going be fine right mommy? Okay mommy I believe you. What? What is dad going to grow now? Not tomatoes again right? Cocoa? Oh, is that used to make chocolate? Oh, yummy.
Okay, mommy. Go and water the plants.
(Walks to another part of the stage)
Daddy, Daddy guess what!
Look! Here! Yeah, that's really him.
(Carmen hugs Eduardo)
Oh, wait before you go. What did you plant today? I asked you but you never told me. Cocoa? You mean chocolate? We're growing chocolate? Yay! Daddy, can we make chocolate when it's ready? What else? You're the best. Mommy, Mommy, guess what?
Be the first to comment